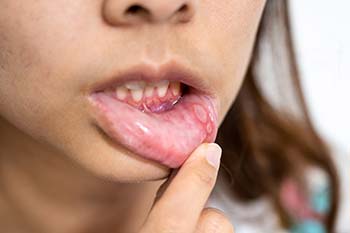 A mouth sore is a painful lesion that forms in your soft oral tissues, such as your cheeks, floor/roof of mouth, lips, tongue, or gums. This condition is common and can affect patients of all ages. In most cases, mouth sores are harmless- but some of them may indicate a more serious problem. Treatment depends on the type of sore you have.
If you have a mouth sore that doesn't resolve on its own after a few days, contact Cambridge Dental Group and schedule your appointment with Dr. Isaac Perle and the team. 
There are several different types of mouth sores and treatment depends on the type of mouth sore you have:
Canker Sores: one of the most common types of mouth sores. They are sometimes referred to as ulcers and are typically red with white, gray, or yellow in the middle. They are not contagious and typically resolve within 2 weeks.
Cold Sores: these are referred to as fever blisters or the "kissing disease" and are caused by the herpes simplex virus. They are contagious and are typically transmitted via sharing of food/drinks or kissing.
Gingivostomatitis: most common in children and characterized by cold sores on the gums or inner cheeks. These mouth sores may be a symptom of a bacterial or viral infection or the result of poor oral hygiene. A thorough dental exam will allow Dr. Perle to determine the cause and create a treatment plan.
Oral Thrush: yeast infection in the mouth, also referred to as candidiasis. Patients with oral thrush have white, creamy lesions on their gums, tongue, and cheeks. Typically, oral thrush is not contagious- but it can happen.
Oral lichen planus: a chronic, inflammatory condition characterized by raised, lacy patches of tissue on the tongue, lips, and cheeks. In some cases, patients have red, swollen sores.
Leukoplakia: common among patients who smoke, characterized by thick, white patches on the soft oral tissues. Typically, the sores will resolve without treatment- but in some cases, it is an early symptom of oral cancer.
Oral cancer: patients with oral cancer often have red or white sores on their soft oral tissues that do not heal.
The team at Cambridge Dental Group understands that mouth sores, though typically harmless, can be upsetting. If you have mouth sores that do not resolve within 2 weeks, it's important to schedule an appointment with Dr. Perle and the team at Cambridge Dental Group. Dr. Perle has over 35 years of experience in the field of dentistry and believes in putting his patients first. He will work with you to ensure that you understand your condition and are comfortable with the treatment options and expects his staff to do the same.
You can or click here to request an appointment. We are open Monday through Thursday 9:00 AM to 6:00 PM and Friday 9:00 AM to 3:00 PM. Dr. Perle will examine your mouth to determine the cause of your mouth sores and create a treatment plan to resolve them as quickly as possible.